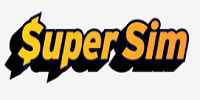 SuperSim - Empréstimo Pessoal - CPL
Offer Id: 49
Aim
Payment
Processing
PostClick
Accept rate
Cadastro Online

Currency: BRL
Aim id: 63 (Active)
ID for application: 21396
9.8 R$
maximum 45 days


30 days

No data
Description:
A SuperSim é uma facilitadora para você conseguir seu crédito pessoal com ofertas personalizadas para cada perfil, faremos o possível para dizer SIM para que você saia com o dinheiro depositado em sua conta.
Benefícios:
Empréstimo online
Recebimento do dinheiro em até 30 minutos
Alta taxa de aprovação
Site 100% seguro
Venham aproveitar!
Offer news:
08/04/2022, 20:54

New Campaign - SuperSim - Empréstimo Pessoal - CPL!




SuperSim is a facilitator for you to get your personal credit with personalized offers for each profile, we will do our best to say YES so that you leave with the money deposited in your account.

Benefits:

Geo Brazil
Commission of R$9.80 per online registration
Materials available

Come enjoy!